Goat & Boot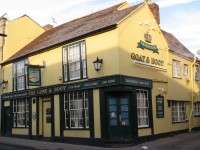 Tagged with...
Nearest Pubs
Forester's Arms (< 500 Yards away)
Rose & Crown (< 500 Yards away)
TPs Sports Bar (0.4 miles away)
Castle (0.4 miles away)
New Town Tavern (0.4 miles away)
Old heavily timbered pub with a semi-circular bar serving two separate areas. Separate area with pool table with pub team, also darts team. Comfortable seating and outdoor area. Large fire in winter. No food available.
Regular Beers
Greene King IPA, Abbot Ale, Guest Ale
Opening Times
Opening Times:
Mon-Thu 5-11.30, Fri 2-12.30am, Sat 12-12.30am, Sun 12-11
Location
Photos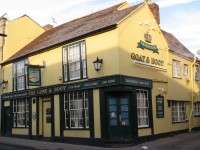 Do you have any more photos of this pub? Can we have a copy? -
click here
.
Spotted an error?
The information above is correct to the best of our knowledge and whilst a lot of effort is made to ensure that the information on this site is accurate and up to date, no responsibility for errors and omissions is accepted. Always phone to confirm opening times and availabilty before making a journey. If you do have an amendment then please let us know by sending us an email