So what happens on our cycle tours? Quite handy if you have a serviceable bike, anything from a mountain bike to a high spec racing bike or just a trusty old bicycle will do the job.
In addition to the rides listed look out for some Summer evening rides during the lighter evenings.
It involves a few beers, good food, good company and cycling at leisure through some of the most picturesque countryside in East Anglia and occasionally beyond. Age is no barrier and we have riders from five different decades joining us on a regular basis.
Most of our tours are about 40 miles but a liberal sprinkling of pubs and a food stop on route mean that the distance between breaks is relatively short. All our tours make use of National Cycle Routes or quiet country lanes, so the amount of riding on main roads is kept to an absolute minimum.
Puncture repair kits and/or spare inner tubes are essential and for some rides you will need lights and waterproofs. Lary clothing is not essential but it is a good idea to wear something light and bright.
Bright yellow banana protectors are optional but useful (apparently!).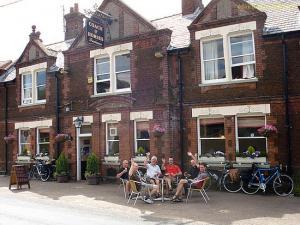 If you'd like to join us please contact us by email: cycling@colchestercamra.org.uk
Riders joining CycAle rides do so entirely at their own risk. The co-ordinator, ride organisers and Colchester and North East Essex CAMRA take no responsibility for individuals joining the rides. CycAle rides are informal rides, those joining take individual responsibility for their own safety and should ride within their own capabilities.